Dry mixed hair is a frequent challenge moms with mixed kids are faced with.
Biracial hair is prone to becoming dry and in order to prevent your child's hair from drying out, you have to actively work to keep it moisturized.
Everyone's scalp makes oil that makes its way down the hair as a natural moisturizer. But because curly hair has a lot of twists, zigs, zags, and bends in their shape, (aka it's not straight) the natural oil the scalp makes to keep the hair healthy, can't make it all the way down to the ends.
This is why your child's ends are often the most fragile and dry part of their hair.
What makes it more challenging is your kids biracial hair will probably change over time so the hair care routine or products you use will probably need to change too.
As my daughter's getting older, her hair is becoming more dry. So we're having to adjust products and parts of her biracial hair routine so her hair stays moisturized.
Although it can be really frustrating when you feel like you've tried a lot of different products, or you just feel overwhelmed because you don't know where to even start, there are things you can do to get your child's curls to their healthiest.
These specific tips will help eliminate dryness and reveal those luscious, juicy curls!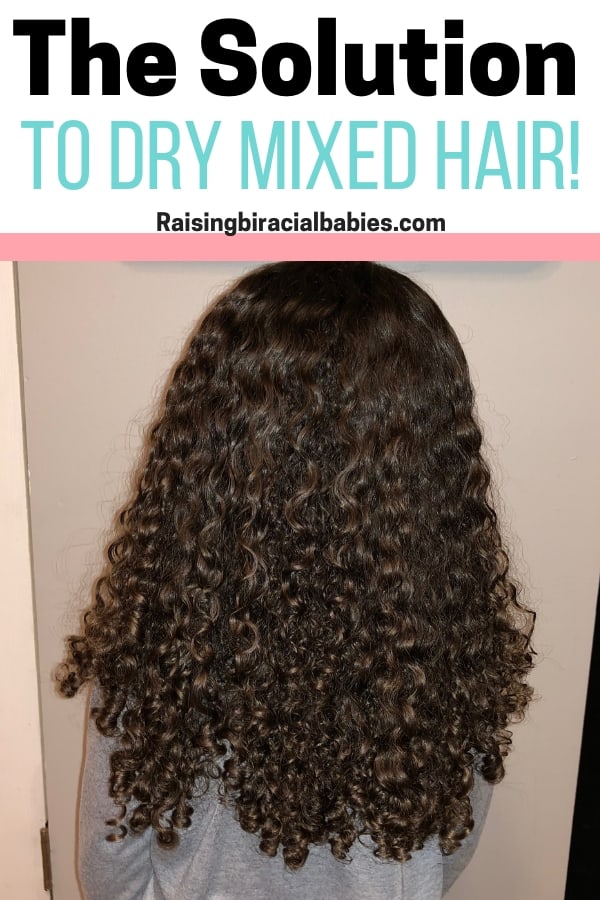 Tips To Get Rid Of Dry Mixed Hair
This post contains affiliate links for your convenience. Click here to read my full disclosure policy.
Use the right products
When using products for mixed hair, you need to make sure you're choosing ones that are putting, and keeping moisture in the hair.
Regular shampoo and conditioner won't cut it for your child's mixed curly hair.
You'll likely need some kind of leave in conditioner for curly hair or other leave in products to keep their hair moisturized.
Keep a close eye on your child's hair and reassess if it used to be soft and moisturized, but is now feeling dry.
You may need to stop using products that previously worked, or try adding new ones into the mix to see if those products are the right combo to get moisturized curly hair.
If you're adjusting any hair products, I always recommend starting with one at a time. For example, stop using one product and assess their hair, or add one product and reassess.
This helps you easily identify which product is helping or hurting their hair.
Understand hair porosity
Without a doubt, how you deal with your child's hair porosity is one of the biggest things that's helping, or hurting the health of your child's curls.
I had a vague idea of what hair porosity was before I had my kids, but I really didn't understand how much that can affect the way naturally curly hair looks and behaves.
After doing lots of research to understand my own children's hair, I've learned there's a vast difference in how you care for each hair porosity type.
High porosity and low porosity hair have very different needs and using the wrong products will create unhealthy, (ex: dry, limp, frizzy, or greasy looking) hair.
You can learn everything you need to know about hair porosity with this guide, The Secret to Soft, Healthy Mixed Hair.
With this guide you'll understand what hair porosity is, why it's important, how to tell what hair porosity your child has, and actionable steps to properly care for your child's curls!
Plus you'll know exactly what products you should be using and which ones you should be avoiding!
Deep condition weekly
Using a deep conditioner is something I recently added to my daughter's hair care routine.
I use it once a week, and this is the deep conditioner we currently use.
After her hair is detangled, I coat it in the deep conditioner, and let it sit for 15-20 minutes and then rinse it all out, (although you can leave it in for up to 30 minutes).
You may find your child needs a steam cap to force the moisture into their hair while you're deep conditioning. Typically it's low porosity hair that needs a steam cap to get moisture to stay in the hair.
(Just another reason to understand your child's hair porosity!)
Don't over wash curly hair
Again, because of the shape of the hair, the natural oil in curly hair doesn't make it all the way to the ends, which makes it dry.
When you wash your child's hair make sure you wash it once or twice a week, (unless their hair is very dry which then you can stretch that time out longer).
If you wash it more than that you risk washing all the natural oil out and the hair becoming even more dry, which will cause breakage.
When you do wash your child's hair, try using a co-wash in between clarifying shampoo washes as this combination helps keep your child's scalp and hair clean and helps to moisturize.
Learn more about how often you should use shampoo and what clarifying shampoos are best for naturally curly hair.
Keep biracial hair in protective hairstyles
If constantly kept down, your child's hair will become dry, tangled and damaged. This can happen because of the weather (harsh winters, harsh sun), swimming, physical activity, and from sleeping.
It's imperative to learn some protective hairstyles to keep your child's hair healthy. It's intimidating if you aren't used to doing hair, (this is coming from a mom who couldn't do any hairstyle except a regular braid and ponytail!) but it really is important to learn.
I've got several tutorials that'll walk you through how to do some basic protective hairstyles, (no braiding involved!) up to medium/advanced styles based on your skill level.
Protective hairstyles will also help speed up your detangle routine because their hair won't be as tangled as it is when it's left down.
A fast detangle process makes for happy parents and kids!
These styles also make for a much faster morning routine when your kids are in school, (I'm all about saving as much time as I can in the mornings!).
Avoid heat
Constantly blow drying your child's curly hair will lead to split ends and if you don't get regular trims, those split ends can split even farther up, causing hair that breaks easily.
Heat is harsh on curly biracial hair and can leave the cuticle open which invites damage, (unless for example, you have low porosity hair and you're using a steam cap).
Constant exposure to high heats can also eventually alter your child's curl pattern permanently.
So use a very gentle method of drying your child's hair.
The best way is by using an old t-shirt and gently blotting and scrunching the hair up towards the scalp and then letting it air dry. This'll soak up extra water and encourage your child's curls to take their natural shape.
Related: 12 Common Mixed Curly Hair Mistakes and How To Fix Them
Final thoughts
Dry mixed hair is really frustrating especially if you feel like you've tried everything!
But these tips can make a huge difference in the health of your child's hair. (Don't forget to snag your guide, The Secret To Soft, Healthy Mixed Hair!)
Keep in mind that you likely won't see results overnight, so you need to give them some time before you reassess things.
A few weeks should be sufficient time to see a difference in your child's hair.
These tips can make the difference between dry, damaged hair, and luscious biracial curly hair!
Get the entire mixed hair care routine, tips, and management below!
Related Reading
Overnight Biracial Hair Care: 3 Things You Must Do To Protect Curly Hair
How To Grow Biracial Hair: 7 Tips To Get Longer Curly Hair
Got Frizzy Mixed Hair? Here's The Secret To Eliminating Frizz